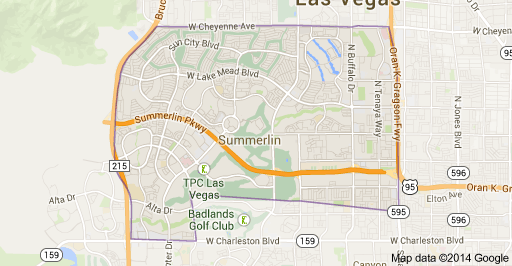 You hear alot of people talk about the Master Planned Community of Summerlin. They will discuss the beauty of the area, the quality of Summerlin Homes, the golfing, shopping, dining and many other ameneties.
However,....If you ask somebody where Summerlin is in Las Vegas, not many people can give you an exact answer.
The reason is,... They are not sure of where it starts an ends.....
You will hear them say things like,....its on the west side by Peccole Ranch or just south of Sun City.
The actual north boundry is on Cheyanne Ave ....North Of Sun City. It then turns south on 95 ....East of Desert Shores.
It then runs on a Northwestern angle Stopping at Hualapai Way. From there,..it runs South To Charleston Blvd and then West again to the 215. It follows 215 right back up to Cheyenne Ave.
Desert Shores (A lakeside community) and Sun City Summerlin (An Age Restricted Community) are actually part of Summerlin.
Peccole Ranch is just to the south on the other side of Charleston Ave and so are The Lakes.
So next time somebody asks where Summerlin Is........Now You Know........and since I just looked it up....I Do To...!!!
Posted by Las Vegas Realtor - Hank Lauzon