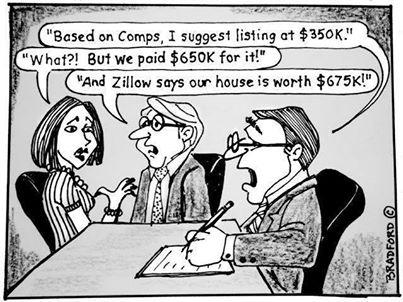 "A True Story"
I received an email from a potential client. As a Las Vegas Realtor, I get excited when I see a new inquiry in my email box. That means business for me and an opportunity to help somebody. The email was sent from a nice couple in Chicago who wanted more information on a home that they had seen on Zillow. When I looked up the property information from the MLS service that I subscribe to,..The residence had already been sold 18 months prior to them contacting me. They were very disappointed, but I was able to find them another home that they were happy to get into.
Another Zillow story comes to mind about a listing that I have at Angel Park in Summerlin. It is priced at $319,900 which is within market value parameters. A buyer's agent called me and asked to make and appointment for a showing. A lady from Arizona was going to drive to Las Vegas to look at only this one property. For the Homeowner and the Realtor, that is usually good news for a potential sale. When she arrived in Las Vegas and toured the home,.. she found that she really liked it but was adamant about not paying over $180,000 for it because this is the price that Zillow had valued the property at. This one piece of misinformation not only killed the deal but it also wasted the time, expense and energy to the buyer who drove all that way to view the home as well as all other parties involved.
These Zillow and Trulia "aggregate sites" access a summation of information from the various public sources that are available. The also duplicate partial multiple listing service records only to improperly regurgitate them back to the public. Although their property information is not accurate, there are many Question and Answer pages as well as blogs from Realtors (such as this one) that will be informative to people who are interested in real estate.
If you are looking to Sell a Las Vegas Home, be sure to get your information from a reputable Las Vegas Realtor. A good Realtor will devote quite a bit of time and research to come up with a valuation for your property. We do not pull this number out of a hat….! An exhaustive search of recently sold homes combined with what is available for sale and what has gone under contract in the subdivision needs to be taken into consideration. If there is nothing to compare it too, then we have to expand further into the surrounding area to find what we are looking for. Upgrades and amenities also need to be considered and added into the formula as an adjustment.
If you are in the market to Buy a Las Vegas Home,… Your Realtor can save you countless hours of research by setting you up a custom home search from the MLS that will send only the homes that are available and meet your criteria direct to your email box. Your Realtor may also have a website that will allow you to set up your own search engine an alerts to be used and modified at your leisure.
For Accurate Real Time Information,…. Call A Realtor
Las Vegas Realtor – Hank Lauzon